Review the 2016 Veloster from Hyundai Dealer in Phoenix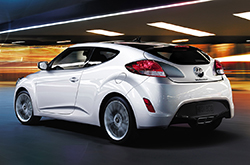 Sporty coupes garner plenty of attention for their flashy appearance and sleek dimensions. But, we've all experienced the uncomfortable and sometimes embarrassing task that is climbing into the 2nd row of a two-door car. In a customer-minded move, Hyundai has ended the acrobatic act of clambering into the second row and has instead installed a hidden, unassuming rear door behind the passenger door in order to allow easy access for second row passengers, all while maintaining the polished coupe appearance. Plus, with a new, exclusive Rally edition, redesigned 17-inch alloy wheels and upgraded entertainment and convenience features, the 2016 Hyundai Veloster in Phoenix is a premium choice for valley drivers seeking sedan spaciousness in an agile hatchback shell.
Our 2016 Hyundai Veloster review is impressed with the well-rounded hatchback that is built for success from the ground up. Standard with a seven-inch touch screen display, a rear-vision camera and a 450-watt Dimension Premium Audio system with eight speakers, the Veloster propels into the future with new features in 2016 like "Eyes Free" Apple integration for iPhone, On-board music and app storage, multi-touch screen capabilities and available Blue Link connectivity. On the outside, the Veloster receives a minor face lift with a revised hood, a dark gray grille and wider tires fitted to all 18-inch wheels. Buyers of the exclusive Rally Edition Veloster will also love the Matte Blue model that features sporty exterior accents and springs, dampers and a front stabilizer bar built for precision and high performance.
Under the hood, the standard 2016 Hyundai Veloster in Phoenix is mobilized by a 1.6-liter Gamma engine that delivers a peak output of 132 horsepower and 130 lb.-ft. of torque. Engineered for efficiency, the EcoShift dual-clutch transmission variant delivers a combined fuel economy of 31 mpg while drivers of the standard six-speed manual will be thrilled with 30 mpg. Extra power is delivered to Rally, Turbo R-Spec and Turbo buyers in the form of a 1.6L turbocharged, direct-injected engine that produces 201 hp and 195 lb.-ft. of torque, a package our 2016 Hyundai Veloster review is sure you'll love.
Sporty, advanced and capable of keeping up with your active lifestyle, the 2016 Hyundai Veloster is a top choice for valley buyers and is available today in Phoenix.