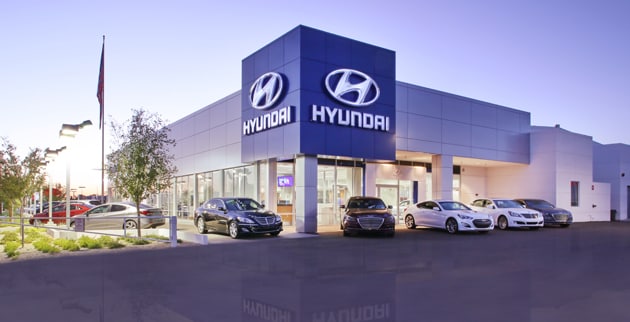 Where you shop makes a difference. If you've never been satisfied with the dealership experience or even dread car shopping because of past experiences, we'd love an opportunity to show you what the dealership experience should really be all about - and that's YOU.
It's all about the customer at our Phoenix Hyundai dealership - you have our word on that. You'll be treated to a level of professionalism and respect you won't find elsewhere and your priorities really will be the main focus. We have a huge inventory of new Hyundai cars for sale in Phoenix for you to choose from and our product experts will assist you in browsing our collection, answering any questions you have about features, specs, upgrades and Hyundai financing in the process. We also have a great selection of used Hyundai cars for sale if you prefer a pre-owned car and want to get an even lower price on your next vehicle lease or purchase.
At Camelback Hyundai, we treat everyone who visits like family and this level of care extends to our philanthropic undertakings. We're a very proud supporter of organizations like Phoenix Children's Hospital and Crisis Nursery, providing annual donations that are used to help our community's most vulnerable youth.
Inside the dealership, we're also extremely passionate about helping others. We believe that car shoppers are entitled to good service and too often receive subpar treatment at other facilities. That's why we've made it our mission to be the Phoenix Hyundai dealership that sets the bar for all others in the county. The fact that we have everything to fulfill your automotive needs, from Hyundai parts and accessories to the latest new Hyundai cars for sale, is only part of what makes us special. Above this, it's our wonderful staff, who share a philosophy to put the customer first.
The same is true in our vehicle maintenance shop, where friendly service advisors and knowledgeable Hyundai-trained technicians are at your disposal. Those looking for car repair in Phoenix can expect exceptional workmanship and fair prices when they come to us, and our auto repair shop is a benefit for anyone who desires a Phoenix Hyundai dealership that provides service after the sale.
Stop by soon to explore our collection of new and used Hyundai cars or schedule an appointment to have your brakes checked, oil changed, tires replaced or any other repair performed! We can handle it all!