Hyundai Azera Review for 2016 Model Year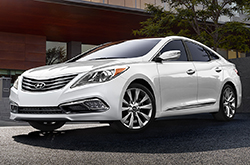 Hyundai's luxurious premium sedan, the Azera, is virtually a carryover for the 2016 model year. It comes with a wide range of incredible standard equipment, a roomy cabin and a huge trunk, offering excellent cargo space. Available in two trims, base and Limited, the 2016 Hyundai Azera comes with unique features on each of its models that will benefit drivers and improve the driving experience. Two new driver convenience technologies designed to assist drivers have been added to the top-of-the-line Limited trim this year and you can read about them in our 2016 Hyundai Azera review below.
As always, the Hyundai Azera is a top choice in its segment, which is why it hasn't been greatly changed for the new model year. The only modifications made on the 2016 Hyundai Azera in Phoenix is the addition of two new technologies on the Limited trim. Coming into the new model year, the high-end trim gains adaptive cruise control with stop/start technology and an electronic parking brake that comes with an automatic vehicle hold function. The latter feature allows drivers to take their foot off the brake when the car is stopped, giving them time to rest before carrying on with their drive.
A 3.3L V6 engine powers the 2016 Hyundai Azera in Phoenix, generating 293 horsepower and 255 lb.-ft. of torque. Paired with a standard six-speed automatic transmission, the powerplant can go from zero to 60 mph in 6.8 seconds and delivers an EPA-estimated 23 mpg combined, 20 city and 29 highway. On the Limited trim, EPA ratings are slightly tweaked, coming in at 22 mpg combined, 19 city and 28 highway.
If you'd like to learn more about the brand-new Azera model and its available offerings, please keep browsing our comprehensive 2016 Hyundai Azera review below. You'll find additional spec information and a 360-degree view of the latest Azera.