2015 Veloster Research and Review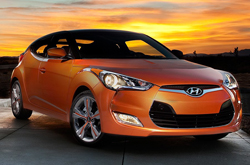 Who doesn't like the sleek, clean look of a sport coupe? Of course, trying to enter the rear passenger row by climbing over the lower back portion of the front seat can be a little annoying and occasionally embarrassing. Not to mention the unfortunate front-seat passenger being fairly folded in half in an effort to make room for back-seat rider entry. Okay, so maybe sedans have their advantages. But the Hyundai Veloster has put an end to automotive contortionism while keeping the cool look of a sport coupe with its semi-invisible third door. The driver side profile is all coupe, but the passenger side is fitted with a small, unassuming rear door with a hidden latch and no visible handle, offering easy access to the rear seat while creating a faux coupe profile. Our 2015 Hyundai Veloster review will delve into other Veloster features to assist you in your pursuit of the perfect sporty, fun, practical and affordable car for work, school, out-on-the-town and the occasional weekend away.
What's new in a 2015 Hyundai Veloster in Phoenix? Only a couple minor changes this year as the Veloster is enjoying the success of recent model additions, the attractive Veloster RE-FLEX and the turbocharged dynamo, Veloster Turbo R-SPEC. If you prioritize economy and like a sporty look, but prefer to drive conservatively and reap your rewards at the pump, you may find the standard DOHC in-line four cylinder right up your alley. If you insist on a little more punch in your pedal, the Veloster Turbo and Turbo R-SPEC will meet your needs with a twin-scroll turbocharged engine that offers up 201 horsepower at 6,000 rpm and 195 pound-feet of torque at 4,500 rpm. In KBB's 2015 Hyundai Veloster review, they note the turbocharged Veloster "offers up plenty of features, style, fuel economy and performance at a price that seriously undercuts competitors like the Volkswagen Golf or Subaru WRX."
See more about this stylish and fun sporty compact by watching the feature overview video at the bottom of the page. Or do your own car comparisons using our Dare to Compare feature below where you can match up any other similar cars you've considered against the 2015 Hyundai Veloster in Phoenix.