Hyundai Dealer in Phoenix Reviews the New Sonata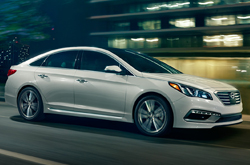 Redefining what a mid-size sedan can accomplish, the new 2015 Hyundai Sonata delivers a sophisticated, next-generation driving experience. With an advanced new suspension, refined safety features and a reinforced body frame, Hyundai has raised the bar for an entire industry. Combining class-leading interior space, confident new styling and efficient power options, the all-new 2015 Sonata has transformed the modern midsize sedan into a modern work of art. Continue reading our 2015 Hyundai Sonata review below to further explore this extraordinary new step for the automotive world.
A dynamic new exterior shines with a bold and stylish design. Aerodynamically shaped by Hyundai's signature Fluidic Sculpture process, the 2015 Sonata features a 0.27 coefficient of drag, leading its class. Inspired with the help of world-renowned fashion designer Waraire Boswell, and curated over the course of 5 years, the new 2015 Hyundai Sonata in Phoenix stands above the competition.
A finely tuned front and rear suspension provides advanced handling capability and enhanced steering response for optimal control on any road. An improved new chassis increases rigidity for improved cornering and reduced road noise. From the class exclusive panoramic sunroof to the high-tech rotational-dip paint process, every inch of the new 2015 Sonata has been redesigned.
Three efficient new gas engine options are available, all boasting well-over 30 MPG highway. From the 185 horsepower 2.4-Liter GDI 4-cylinder to the 245 horsepower twin-scroll turbo 2.0T, these new powertrains are designed to maximize power output and minimize fuel consumption. Furthering on the advancement of the mid-size class of cars, the new 2015 Hyundai Sonata Hybrid option bumps the mileage distance up to an EPA estimated 40 MPG on the highway!
'New thinking, new possibilities' isn't just the Hyundai motto, for the new 2015 Hyundai Sonata, it's a defining characteristic. Making the every day less everyday, this class leading sedan delivers the refinement and sophistication of a luxury car at a highly affordable price. Continue reading the 2015 Hyudai Sonata review below for additional information, or test drive your 2015 Hyundai Sonata in Phoenix at Camelback Hyundai today!