About Hyundai Reviews From Camelback Hyundai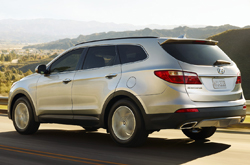 Utility is at the forefront of design, features and amenities in the 2015 Hyundai Santa Fe in Phoenix. A premium feel is backed up by stain resistant fabrics and easy-cleaning leather. Compact, fuel efficient and affordable, the Santa Fe seats seven (six with second row captain's chairs) while the Santa Fe Sport opts out of the third row and seats five comfortably. The Santa Fe GLS or Limited supplies eighty cubic feet of maximum cargo area with seating folded down, out-classing competitors like Dodge Durango and Toyota Highlander. The more diminutive Sport model makes way for 71.5 cubic feet worth of cargo when seats are folded. We'll talk about the many reasons to consider this do-everything vehicle for your busy lifestyle as our 2015 Hyundai Santa Fe review gets revved up below.
The Santa Fe Sport is the preferred choice for folks with lesser passenger needs who prefer a smaller vehicle footprint. Its standard four-cylinder engine will provide plenty of power for commuting and "mom's taxi service" utility, but for families who like adventure, we recommend the peppier Sport 2.OT with its 264 horsepower and 269 pound-feet of torque which tops that of the Santa Fe GLS and Limited's standard 3.3-liter V6, so you'll have the power you want for climbing steep grades and decisive passing. Both the 2015 Santa Fe or Santa Fe Sport offer front- or all-wheel drive. Larger families with recreational leanings will appreciate the 5,000-pound tow-capacity of a properly equipped Santa Fe when it comes time to hitch up the boat or camper! When you're not hauling a trailer or climbing mountain passes, choose the ECO mode on your six-speed automatic transmission for increased fuel efficiency.
Our 2015 Hyundai Santa Fe review continues below, but to fully appreciate these award-winning vehicles, visit us at Camelback Hyundai where you can test drive a 2015 Hyundai Santa Fe in Phoenix and compare features, space comfort, power and price with that of the Sport model to see which Santa Fe works best for you and your family.