About the Hyundai Equus in Phoenix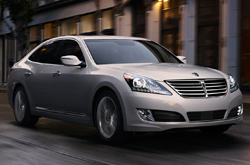 Old world luxury combined with modern convenience; two worlds we long to see collide. The Equus treats us to a soft leather and rich wood environment and doesn't spare the horses when it comes to modern tech amenities. Large LED screens, floating head-up driver information display that includes blind spot monitoring, Bluetooth streaming and a multi-view camera system are all available. The Equus competes with high-end luxury brands in every area except perhaps price. We must agree with Kelly Blue Book who pointed out in their 2015 Hyundai Equus review that those who will look beyond status may find the luxury executive-style sedan they seek at a remarkable value. Join us as we take a look at the pampering features and powerful force behind the 2015 Hyundai Equus in Phoenix.
You have two choices with an Equus - loaded or fully-loaded: the 2015 Equus Signature or Equus Ultimate. Both are powered by a gasoline direct-injection five-liter V8 that sends 429 horsepower and 376 pound-feet of torque to the rear wheels. The Equus is a solid, heavy automobile, weighing in at around 4,600 pounds, but this powertrain and its eight-speed automatic will take you to sixty mph in about six seconds. Worlds coalesce again as modern variable valve timing and tuned variable induction are joined by what test drivers have described as a surprisingly classic sounding "brawny burble."
We recommend looking at the 2015 Hyundai Equus in Phoenix with the Ultimate trim. The price differential between Signature and Ultimate is well worth the gains in amenities. First of all - the Ultimate package treats your backseat passengers to the same heated and cooled seating you have in front along with what may be the best rear seat entertainment system available. The multi-view camera system and head-up display are the type of features you come to rely on without even realizing it. Learn about all the impressive features you'll enjoy as our 2015 Hyundai Equus review continues, concluding with an informative video tour.