Hyundai Dealer in Phoenix Reviews the New Elantra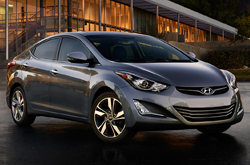 One of the best valued sedans on the road, the new 2015 Hyundai Elantra defines both efficiency and performance. Half-compact, half-luxury sedan, the Elantra is truly in a class all its own. Featuring endless innovations from the lightweight & powerful all-aluminum 1.8-Liter engine to the revolutionary steel chain valve train (as opposed to standard rubber belts), to the Fluidic Sculpture aerodynamic exterior design, this sedan turns heads just as fast as it turns corners. Continue reading our 2015 Hyundai Elantra review for a comprehensive breakdown of this award-winning sedan.
With its compact-yet-potent engine options, and well-tuned suspension, the 2015 Elantra is one of the most nimble and sporty new sedans on the market today. The standard 1.8-Liter 145 horsepower 6-speed powertrain delivers a fuel-sipping 38 MPG highway and a smooth acceleration for navigating in-town traffic and passing on the open roads. Put more oomph in your commute when you test drive the 2015 Hyundai Elantra in Phoenix today.
Packed with an array of new features for the new model year, the 2015 Elantra is jam-packed with high-tech amenities, conveniences and options. Intelligent features like the Vehicle Stability Management System, a motor-driven power steering with driver selectable steering modes, and the electronic stability and traction controls with Hillstart Assist makes this new Elantra the most advanced entry-level Hyundai available.
State of the art safety is the backbone of ever Hyundai on the road, and the new 2015 Hyundai Elantra in Phoenix further advances that legacy. Side impact beams and six airbags including front, side-impact and side-curtain helps protect you and your passengers from collisions, anti-lock brakes with electronic brake-force distribution help keep you in control, and standard blind-spot mirrors help you become more aware of drivers around you. These features and many more explain why the Elantra earned a 5-Star Overall Safety Rating by the NHTSA and was named an IIHS Top Safety Pick.
Check out the rest of our 2015 Hyundai Elantra review below, and see why this stylish sedan has become one of America's best valued vehicles on the road.