Hyundai Elantra Comparisons & Quick Specs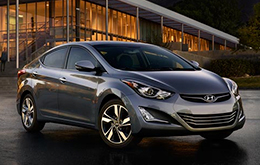 The 2014 Nissan Sentra, Ford Focus, Chevrolet Cruze, Honda Civic, Toyota Corolla and the Mazda3 are no match for the 2014 Elantra! Just compare Hyundai's most current model alongside them and you'll find out that it scores higher than the competition easily. If the Elantra's unique onboard technologies and attractive looks don't prove to you that it's the best vehicle for you, we're sure its cut-rate sticker price will. For Phoenix Hyundai customers who want a phenomenal value, just compare this vehicle's price to the forementioned vehicle options and you'll see that it's a worthwhile investment. Find out more useful facts in our bullet list under this paragraph!
2014 Hyundai Elantra Seats: 5 passengers
2014 Hyundai Elantra Body Style(s): Sedan
2014 Hyundai Elantra MSRP: $17200
2014 Hyundai Elantra 0-60 MPH in 9 seconds
2014 Hyundai Elantra Doors: 4-door
2014 Hyundai Elantra MPG: 28 city / 38 highway
2014 Hyundai Elantra Cargo Space: 24.3 cubic feet
2014 Hyundai Elantra Colors: Red, Shimmering White, Desert Bronze, Indigo Night, etc...