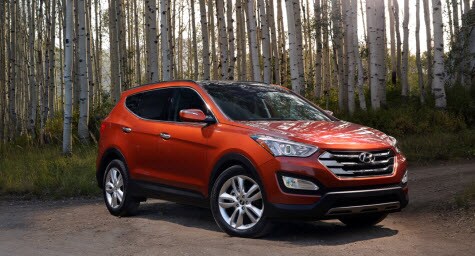 The 2014 Hyundai Santa Fe has been racking up awards since it arrived on the scene last year and there's no signs of its success slowing down anytime soon. U.S. News & World Report is the latest publication to honor the redesigned crossover, naming it a Best Car for the Money during their 2014 awards of the same title and cementing the Santa Fe as one of the top SUVs on the market.
Winner of the Three-Row Midsize SUV segment in U.S. News & World Report's 21-category awards, the 2014 Santa Fe was evaluated according to its quality and value. However, what really impressed the judges when it came down to the SUV was its generous amount of high-tech features, lavish interior, comfortable seating and high-quality performance. These are all notable elements that were taken into great consideration during the production of the Santa Fe and they are also part of the reason for its outstanding success, along with its wide selection of trim levels and powertrains.
"When re-designing the Santa Fe, we wanted to break out of the unexciting mold that had long-plagued the midsize SUV segment," said Scott Margason, director, Product Planning, Hyundai Motor America. "By offering our customers what they really want - the newest technologies as standard, bold design, class-leading safety features and the industry's best warranty - the Santa Fe is poised to become the new archetype for 3-row midsize SUVs."
If the Santa Fe keeps heading in the direction it's going, there's no telling how its qualities will influence new generations of crossovers. Hyundai's dedication to innovation has helped it stand out from the competition and its future looks bright with much more to come.