Learn More About the New Genesis From Camelback Hyundai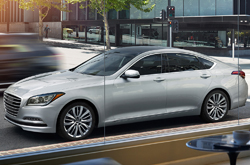 Are you looking for a premium sedan with style, luxury amenities and a powerful engine but you don't care to spend $70k? Motor Trend's 2015 Hyundai Genesis review notes that the "Genesis remains a great near-luxury purchase with all of the trappings of much more expensive cars." Or maybe you're looking for the ultimate fun-driving sport coupe but don't want to pay thousands extra for a logo. If you're more about the drive and less about the emblem, check out the Genesis Coupe. Whether you're sedan or coupe shopping, you'll find the 2015 Hyundai Genesis in Phoenix can meet your needs for both power and luxury.
The rear-wheel drive Genesis Coupe dropped its four-cylinder engine, leaving the 3.8-liter V6 as the single, standard powertrain for 2015, delivering 348 horsepower and 295 pound-feet of torque. R-Speck and Ultimate models have available Torsen limited slip differential. If you want to play, stick with the standard six-speed manual. LED running lights, fog lamps, cruise control, auto-dimming rearview mirror, heated outside mirrors, Bluetooth and iPod/USB connections, keyless entry and air conditioning are all base-standard.
If you're looking for a little pampering, investigate the sedan. Digital Trends' 2015 Hyundai Genesis review declares the Genesis base sedan has "everything a driver could possibly want, except a sun roof and radar guided cruise control." Frankly, in Phoenix, most of us can do without the sun roof, but if have a laundry list of must-have amenities, you'll most likely see them all by watching the video tour or clicking through any of the Genesis models shown later in our 2015 Hyundai Genesis review. The Genesis interior is country-club-classic, but outside, Genesis sparkles and dazzles. There's even an auto lighting feature to guide you in as you approach the sedan with its key in your pocket. Once inside, you'll be treated to an amazingly comfortable ride, cradled in luxurious leather. The Genesis sedan comes in a 5.0 and 3.8 model, denoting the size of their respective engines, delivering 420 horsepower and 383 pound-feet of torque on the top end. Sit back, relax, and conquer the highway. This is a ride you should experience. Visit Camelback Hyundai to test drive a 2015 Hyundai Genesis in Phoenix.