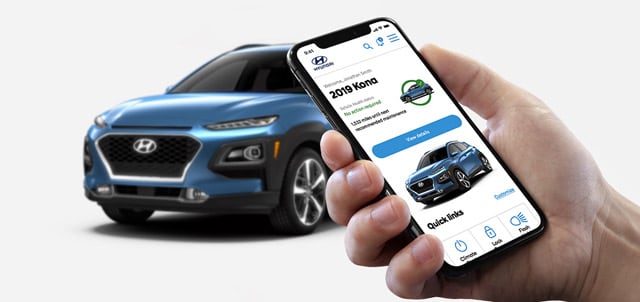 A Little Reminder from Hyundai
The handy Hyundai connectivity features let customers seamlessly integrate their smartphone' s apps and information right into their Hyundai model vehicle. One of the handiest of these features is service reminders that let you know when it' s time for routine maintenance like oil changes or windshield wiper blade replacement. The practical helpfulness of these reminders is apparent, but how exactly do you program your app to give you a reminder when you need these services? Let's find out.
How to Set Auto Service Reminders
We'll use the Palisade as an example. Models equipped with service reminders make it easy to set up reminders. If you have a digital display on your model, press the setup button on your display. Then select "Vehicle." Scroll down and select "Cluster." All that's left to do now is click on "Service Interval." It's as simple as it gets! If your model doesn't have a digital display, you'll use the LCD control button on the right side of your steering wheel. The user settings menu will be in front of you on your digital instrument display panel. Work your way to user settings and find service intervals. You're done! Newer models that have a display screen make it super simple to get to your service interval settings, but it's just about as easy without the digital display. The benefits of setting up your service reminders are many:
Know exactly when to have your vehicle serviced
Help your engine and other components remain healthier
Increase the lifespan of your car
Millions of people now take advantage of auto service reminders. If your smartphone is integrated into your more modern Hyundai set up, it'll be easy to get reminders on your phone and take your car in for service as soon as it needs it.
For More Information
Hyundai makes it easy to set up service reminders and keep them up. Sure, you have to remember to take the physical car in, but the days of guessing when you need an oil change or fluid check are over. Your intelligent Hyundai vehicle will remind you of auto service dates and help you keep your Hyundai vehicle running at tip-top shape at all times. For more information about service reminders, or if you need help setting them up, call our helpful team.