Getting a flat tire is never fun. Still, it's one of those situations that every driver will have to deal with on occasion, which is why it's essential that you're prepared and know what steps you'll need to take when a flat threatens to delay your morning commute. In the past, this issue generally meant that you'd need to jack up your vehicle and switch out that flat tire with your spare. However, thanks to the innovative Hyundai Tire Mobility Kit, you'll never again have to deal with the stress and strain that comes with having to change your tire on the side of the road.
What Is the Hyundai Tire Mobility Kit?
Hyundai is among the growing number of auto manufacturers that have decided to ditch the spare tire in favor of a system that allows you to easily repair your flat tire instead of having to change it. Depending on which model you drive, you might be surprised when you learn that your vehicle doesn't actually have a spare tire. Instead, you'll find the Hyundai Tire Mobility Kit, which is designed to allow you to repair your flat quickly so you can still reach your destination without needing to go through the pain of changing your tire.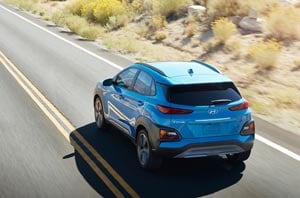 The Hyundai Tire Mobility Kit is a two-part tire repair system that features both an air compressor and an integrated bottle of tire sealant. With this system, you should be able to repair most flat tires in only a few minutes, which can be a huge advantage should you ever find yourself stuck on the side of a busy road or highway with a flat. The tire sealant works to seal up the damage after which the compressor can be used to re-inflate the tire so that you can quickly continue on with your trip.
Using the Hyundai Tire Mobility Kit
To use the Hyundai Tire Mobility Kit, the first thing you'll need to do is plug it into your vehicle's 12-volt power adapter. From there, you'll need to attach the compressor hose to the tire's valve stem. Once you turn the unit on, you'll need to inject the sealant into the tire for approximately three minutes to ensure that you fully seal up the hole or other damage that causes the tire to go flat. Once the sealant has been applied, it is recommended that you slowly drive the vehicle a short way to help the sealant fully circulate around the tire and repair the damage. From there, the final step is to reconnect the air compressor unit to your tire's valve stem, and then turn it on to re-inflate your tire to the recommended pressure level.
In most cases, this should be enough to allow you to continue on with your journey until you have time to take your vehicle in to have the damaged tire repaired. However, it is important to note that this tire repair kit is not capable of repairing all types of tire damage. Generally speaking, Hyundai recommends only using the repair kit for damage to the tire treads as the kit is incapable of repairing damage to the tire's sidewalls. Moreover, the sealant is usually only capable of repairing holes that are a maximum of 4 millimeters in diameter. For these reasons, it may be necessary to call for roadside assistance should your tire have damage to the sidewall or a hole that is larger than the tire sealant can safely repair.
The Tire Mobility Kit is another way that Hyundai is helping to make life easier for the average driver, but it is far from the only benefit that you'll receive when you by a new Hyundai vehicle. Therefore, we invite you to visit our dealership where you can learn more about this unique tire repair system and all of the various other benefits you'll receive when you choose Hyundai.