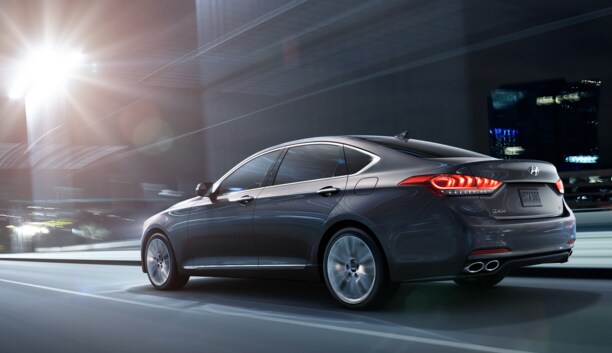 The luxurious, bestselling Hyundai Genesis has earned one of the industry's top honors: a Top Safety Pick+ award. Given out by the Insurance Institute for Highway Safety, Top Safety Pick+ awards are given to the cars that showcase not only exceptional performance in safety tests, but also provide even more safety amenities through a forward emergency braking system.
"Safety is a top priority at Hyundai, so we are pleased to see two of our vehicles on this prestigious list," said Mike O'Brien, vice president, Corporate and Product Planning, Hyundai Motor America. "Hyundai's emphasis on safety continues to shine through with the advanced safety technologies across our vehicle lineup, including autonomous emergency braking (AEB), lane departure warning with lane keep assist as well as emergency brake assist."
The 2016 Genesis is one of Hyundai's most celebrated models, boasting a full luxury features list, as well as an agile and efficient powertrain. Safety equipment available on the 2016 Genesis includes electronic stability control, energy-absorbing front airbags, nine additional standard airbags and Hyundai's autonomous emergency braking system. There are also several fantastic advanced safety features, including lane departure warning, lane change assist, a rearview camera, electronic brake distribution and the widely praised Sensory Surround Safety system.
Another Hyundai model that enjoys the Top Safety Pick+ distinction is the 2016 Hyundai Tucson. To find out more about these amazing new cars from Hyundai, stop by Camelback Hyundai and take them for a test drive!